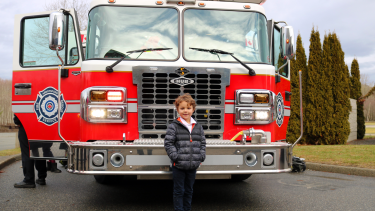 Fire Trucks visit with Auguston's Grade 2 & 3 students
January 19, 2023
Earlier this month, students from Auguston Traditional Elementary made some core childhood memories after firefighters from Abbotsford Fire Rescue stopped by with their infamous red fire truck. As part of Fire Safety week in October, the school executed an organized and responsive fire drill, which impressed the team at Abbotsford Fire Rescue. They were given the opportunity to enter a contest in hopes of receiving a special visit to their school from a fire truck for Grade 2 and 3 classes and were one of eight schools in Abbotsford that won.
Fire prevention starts at an early age. Bringing the firefighters and the fire trucks to the school for students to see and learn firsthand was an exciting time, for all involved. Fire personnel spoke to the students about fire prevention and toured students around the fire engine and rescue truck to see the different types of equipment used for firefighting. Through this hands-on experience, students were able to learn key safety messages from local firefighters, look around the fire engines and sit inside.
"Our grade 2 and 3 students were so excited for this day," said Kris Sward, Principal of Auguston Traditional Elementary. "They got to see how a Fire Truck works, meet real Firefighters, and most importantly, learn more about staying safe, making a fire safety plan and how to practice fire safety all year long."
Welcoming firefighters to the school and having students interact with them is a one way Abbotsford Fire Rescue is working with the community to ensure individuals feel comfortable if they are ever in an emergency. The other five Abbotsford School District schools that won a visit included Centennial Park Elementary, Aberdeen Elementary, Bradner Elementary, Terry Fox Elementary and Sandy Hill Elementary. School visits were arranged with the school principal and the Abbotsford Fire Services.