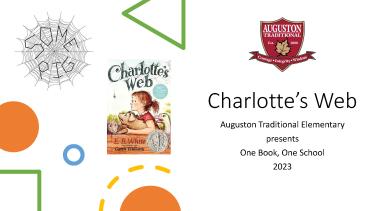 One Book, One School
April 26, 2023
Charlotte's Web Trivia Questions
There will be three sets of trivia questions total. From those entries who get all the questions correct, a random draw will be held for the winner. Three sets of questions = three winners. During our celebration day on May 31, our winners will be drawn and win a prize of a stuffed animal to take home - we have a Charlotte, a Wilbur and a Templeton stuffy to win!
Click on the links below for the Trivia Questions
Auguston Staff Chapter Readings of Charlotte's Web
Listen Along Audio files for Week 5 May 29-30
Listen Along Audio files for Week 4 May 22-26
Listen Along Audio files for Week 3 May 15-19
Listen Along Audio files for Week 2 May 8-12
Listen Along Audio files for Week 1 May 1-5
Introduction
May 1 Welcome from Mrs. Sward, Principal Audio Introduction to Charlotte's web
(email sent to parents on April 26)
Hello Auguston Traditional families,
I am so excited to be able to share a very special event that will be happening at our school for the month of May. Our PAC has generously donated part of our Scholastic Book Fair proceeds to the purchase of a novel for EVERY FAMILY in our school! This week, a copy of Charlotte's Web by E.B. White will be sent home with the oldest student in each family along with the attached information sheet: Charlotte's Web One Book One School 2023.pptx. We are going to read this book together as a school as our first ever One Book, One School event.
This is a family project, too.  You are invited to read along with us following the calendar reading targets. There will be trivia questions posted on the website (dates also noted on the calendar). We will talk about the book in classes and share our love of the story together in the school, and then on May 31st we will celebrate finishing the book by having a dress like a character from Charlotte's Web day and we will watch the movie together as well.
What a great way to celebrate the community of readers that we are here at Auguston! Please see the attached information sheet for full details on this fun literacy event and keep an eye out for your copy coming home this week. Reading starts on May 1st and we look forward to sharing this awesome story with you. Many thanks to our PAC for funding this project and to you – our families – for joining us as we read Charlotte's Web together. Enjoy!



Kris Sward, 

Principal